Welcome to week 25. 15 weeks to go!
Listen Now
Baby
Your baby is growing from an ear of corn last week to the size of an acorn squash. They measure 13.3 inches (33.7 cm) and weigh 1.7 pounds (785 grams).
Not only can a stethoscope pick up your baby's heartbeat, but it is also loud enough that anyone who presses an ear to your belly can hear it. They can make a fist, reach their feet, and even may already exhibit a preference for their right or left hand.
Your baby's skin is turning pinker due to small blood vessels forming under the skin and filling with blood. They are still developing their lungs which have a ways to go but are getting more prepared to breathe air.
Mom
Typically, a baby shower is early in the third trimester and at least 4-6 weeks before your due date. This episode covers everything you need to know about a baby shower, including etiquette, planning tips, and ideas to make your baby shower the perfect celebration. Usually, a friend hosts your baby shower. If no one has volunteered to host your baby shower, now is an excellent time to start that conversation.
Stretch marks may appear towards the end of the second trimester and are most common toward the end of your pregnancy. Rapid stretching of the skin fibers, hormonal changes, and genetic factors all contribute to stretch marks. These lines can show up in your belly, breasts, your butt, and even your thighs. While no evidence-based cream, oil, or magic potion effectively prevents stretch marks, keeping your skin moisturized can help with the itching that accompanies this. If you want to massage your belly with creams or oils, there isn't a downside. Massage has been recommended to improve the appearance of scarring, although I could not locate any evidence that massage truly helped with stretch marks.
Your care provider may recommend a 3D or 4D ultrasound to examine suspected fetal anomalies, such as cleft lip and spinal cord issues. You may also be interested in a 3D or 4D ultrasound for keepsake baby photos and videos. The consensus from ACOG is that ultrasound exams be performed only for medical reasons by qualified healthcare providers. According to the FDA, ultrasound can heat tissues slightly, and in some cases, it can also produce very small bubbles (cavitation) in some tissues. The long-term effects of tissue heating and cavitation are not known. Therefore, ultrasound scans should be done only when there is a medical need, based on a prescription, and performed by appropriately-trained operators. Check out this episode for the evidence on ultrasound safety.
Tip for Dads and Partners
You and your wife, girlfriend, or partner must be on the same page. It is normal for both of you to find yourself worrying about your relationship, finances, work, and your baby. Having a baby is a significant life change, and you aren't going to come up with all the answers overnight. Give yourselves time to figure everything out. Keeping an open line of communication will help tremendously. If either of you has doubts or worries, share and work through any concerns. A healthy relationship with your partner will create a strong foundation and positive environment for your baby.
Want more evidence-based information to navigate your pregnancy and birth?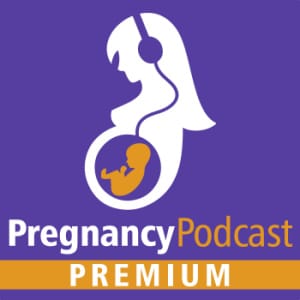 20% OFF Pregnancy Podcast Premium with the code 40WEEKS. With a Premium membership, you get access to the private podcast feed (in your favorite podcast app) with every episode ad-free. Exclusive access to all episodes, articles, and resources on the website. Plus, a digital copy of the Your Birth Plan book. Your step-by-step guide to creating the birth experience you want. Including sample plans and a master template you can customize. Become a Pregnancy Podcast Premium Member.