Welcome to week 23. 17 weeks to go!
Listen Now
Baby
Your little papaya-sized baby is getting bigger this week and will be about the size of a grapefruit. Your baby measures 12.6 inches (32 cm) and weighs 1.3 pounds (568 grams). In the next five weeks, your little one will double their weight.
Until now, your care provider has probably been using a Doppler to detect your baby's heartbeat. This week you should be able to hear your baby's heartbeat through a standard stethoscope.
Your baby is getting a better sense of movement and can feel you dance or move around. Chances are they are doing their little dance in your belly. As they grow, you are probably feeling them move around more. Let your partner know when your baby is kicking so they can put a hand on your belly and feel it too.
Blood vessels in your baby's lungs are developing to prepare for breathing once they are outside the womb. For now, the placenta supplies oxygen to your baby through the umbilical cord.
Modern medicine is amazing. If something happens and you enter labor early, your baby has a very high chance of survival after about week 23. Ideally, you hold off on going into labor until your baby is ready, around 40 weeks.
Mom
If your belly button was an innie, it might become an outie.
Now is an excellent time to start thinking about a birth class. You should allow enough time to complete your course by week 37. A birth class prepares you for what to expect and prepares your partner to support you. In-person birth classes have limited capacity and will fill up. If you start looking into options now, you have plenty of time to book a spot in a class that is the right fit for you and your partner.
Tip for Dads and Partners
As your baby grows, its movements will become more pronounced, and you can see them kicking mom's belly from the outside, which can be pretty exciting. Ask mom to tell you when your baby is moving so you can feel it, and say hello. As your baby becomes more able to respond to sound, you may find they kick when you speak to them or move around when they hear a particular song.
Want more evidence-based information to navigate your pregnancy and birth?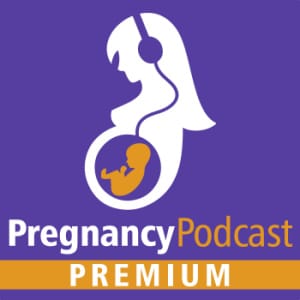 20% OFF Pregnancy Podcast Premium with the code 40WEEKS. With a Premium membership, you get access to the private podcast feed (in your favorite podcast app) with every episode ad-free. Exclusive access to all episodes, articles, and resources on the website. Plus, a digital copy of the Your Birth Plan book. Your step-by-step guide to creating the birth experience you want. Including sample plans and a master template you can customize. Become a Pregnancy Podcast Premium Member.