Welcome to week 22. 18 weeks to go!
Listen Now
Baby
Your banana-sized baby is growing to the size of a papaya this week. Your baby measures 11.4 inches (29 cm) long and weighs 1.1 pounds (478 grams).
Your baby's first canines and molars develop from hard tissue below the gum line. They also have eyes now. Although genetics at conception determine their eye color, the irises have no pigment yet. Your little one's eyelashes and eyebrows are well formed now, and more hair is sprouting on their head. Like their eyes, their hair has no color yet; if you could see it, it would be bright white.
Your baby's senses continue to develop. They touch and grasp the umbilical cord and better perceive light and dark. They can hear your voice, heartbeat, and other noises your body makes. It is loud in the womb, but all that noise is calming and familiar to your baby.
At 22 weeks, only 47% of babies are in a cephalic presentation, meaning they are head down. The prevalence of this ideal head-down position increases to 94% at 36 weeks. Don't worry if your baby isn't head down yet. They still have a lot of room to move around before settling into a position before birth.
Mom
At 22 weeks, your uterus is about an inch above your belly button. In addition to your belly and your breasts getting bigger, there are many other physical changes. You may notice your hair is fuller. You aren't growing more of it, just shedding less, but the result is thicker fuller hair. You might also see stray hairs popping up where you don't want them. This is temporary, and you can tweeze, wax, or shave to take care of those. Your fingernails may grow more quickly than usual, and you may notice changes in texture. Some women's nails get harder, while others get softer or more brittle.
It may be a good time to consider hiring a doula. A doula is a professional trained in childbirth who provides emotional, physical, and educational support to a mother and her birth partner during pregnancy, birth, and postpartum. They do not have any formal medical training and do not perform any medical procedures. Some doulas specialize in a specific type of birth, such as a home birth or a planned cesarean. There is substantial growing evidence on how doulas positively impact births. But do you need a doula? With the benefits are downsides, like the additional cost. This episode examines the evidence of having a doula, how they advocate for you and work with your Ob-gyn or midwife, and how they support your partner. Plus, get tips on how to find a doula that is the right fit for your family.
Tip for Dads and Partners
Research car seats, strollers, cribs, and other baby gear you might need. While it may seem like there is so much to buy, not everything has to be purchased new, and expensive doesn't always mean better. The Consumer Reports website has in-depth ratings, reviews, and buying advice for must-have baby products based on rigorous expert testing. It is also helpful to check in with friends with kids and ask them what products they recommend. You can download the Ultimate List of baby essentials for the must-haves, optional items, and unnecessary things.
Want more evidence-based information to navigate your pregnancy and birth?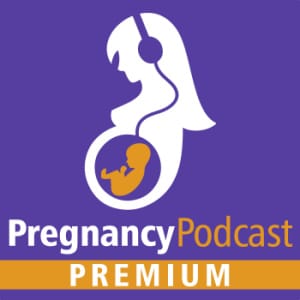 20% OFF Pregnancy Podcast Premium with the code 40WEEKS. With a Premium membership, you get access to the private podcast feed (in your favorite podcast app) with every episode ad-free. Exclusive access to all episodes, articles, and resources on the website. Plus, a digital copy of the Your Birth Plan book. Your step-by-step guide to creating the birth experience you want. Including sample plans and a master template you can customize. Become a Pregnancy Podcast Premium Member.