Welcome to week 21 and the second half of your pregnancy. 19 weeks to go!
Listen Now
Baby
Your little sweet potato is growing to about the size of a banana this week. Your baby measures 10.8 inches (27.4 cm) and weighs 14.1 ounces (399 grams).
Your baby's eyebrows and eyelids are present now, and if you are having a girl, her vagina has begun to form. Although your baby moves around a lot, they also sleep around 12 to 14 hours daily.
Now that their digestive system is maturing, your little one can swallow amniotic fluid, which will help them put on some weight. All of that swallowing also preps their digestive system for after birth. This week taste buds have also developed. The taste of your amniotic fluid will differ daily depending on what you eat. Research shows that babies exposed to tastes in utero via the amniotic fluid were more likely to enjoy those flavors when they were exposed to them in solid foods later.
Mom
Your uterus is continuing to rise, and if you feel around for it, you should be able to find the top of it about a half inch above your belly button this week. Your body is working hard and is circulating about 45% more blood and fluid than before you were pregnant.
Pregnancy can be a time of additional stress as you are experiencing many physical changes and preparing for birth and a new baby. In a sense, everything you expose yourself to during pregnancy can also affect your baby, and stress is no exception. Physiological changes can impact your baby. Stress that puts you at a higher risk for some complications can affect your baby's health and development. How you and your baby are affected by stress in the short and long term is essentially a function of your stress response and your ability to turn it off. The good news is that understanding your stress response and learning about evidence-based tools to manage stress will minimize the adverse effects.
As you get into the second half of your pregnancy you should start thinking about your birth plan. A birth plan is your plan of how you envision your birth and what happens directly following the birth of your baby. This is much more than a piece of paper you hand to your care provider. It is the process you go through to prepare for the birth experience you want. This process will lay the foundation for preparing for the scenario in which everything goes as planned and what should happen if things do not. The value of a birth plan has a lot more to do with the process of creating it than it does with the finished product. You started creating a birth plan as soon as you began learning about labor and birth. Over the next 19 weeks you can craft that plan as you learn more about your options.
The Pregnancy Podcast has several resources to help you create your birth plan:
Guide to Creating Your Birth Plan
Get a copy of Vanessa's birth plan
Your Birth Plan book (FREE for Premium Members)
Tip for Dads and Partners
Expecting moms all feel differently about their growing bodies during pregnancy. Please let your significant other know that they are beautiful. Remind them that these physical changes are temporary if they don't love the changes.
Want more evidence-based information to navigate your pregnancy and birth?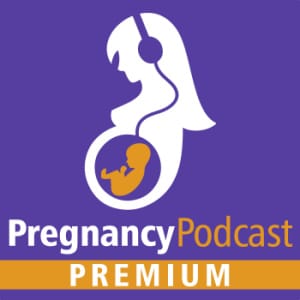 20% OFF Pregnancy Podcast Premium with the code 40WEEKS. With a Premium membership, you get access to the private podcast feed (in your favorite podcast app) with every episode ad-free. Exclusive access to all episodes, articles, and resources on the website. Plus, a digital copy of the Your Birth Plan book. Your step-by-step guide to creating the birth experience you want. Including sample plans and a master template you can customize. Become a Pregnancy Podcast Premium Member.