Welcome to weeks one and two of your pregnancy.
Listen Now
You measure pregnancy in the weeks leading up to the birth of your baby. Your baby is due at the start of your 40th week of pregnancy. Week one is the week of your last period before you get pregnant. You don't ovulate and conceive until week three. This uses a formula called Naegele's rule. The medical community widely accepts this calculation even though it operates on some assumptions like a 28-day cycle and ovulation on day 14. It is also possible to have your due date calculated later in your pregnancy by measurements in an ultrasound examination.
You can also break down the 40 weeks of your pregnancy into trimesters of 12-14 week periods. The first trimester is through week 12. The second trimester spans weeks 13-27. The third trimester goes from week 28 until your baby is born.
If you are preparing to try to get pregnant, there are some things you can start doing now. Anything that will improve your health can improve your fertility and chances of getting pregnant. If you are not already taking a prenatal vitamin, now is the time to start. This is also an excellent time to give up alcohol, smoking, recreational drugs, and over-the-counter or prescription drugs that are not safe for pregnancy. Focusing energy on eating a healthy diet, starting or maintaining an exercise routine, and sleeping well are great. If you are not the healthiest person right now, do not stress out over it. Many women find out they are pregnant before implementing a healthier lifestyle and their babies are perfectly healthy. It is never too late. Today is a fantastic day to start.
There is much to learn and many decisions to make throughout your pregnancy and parenting journey. The fact that you are tuning into this podcast is an excellent indicator that you are on top of it. The amount of information to consume can be overwhelming in the beginning. Don't worry; you have plenty of time to figure everything out. Luckily many instincts kick in. Nature arms us with tools you probably don't even know you have yet.
Tip for Dads and Partners
You probably don't even know that you will be a parent yet. Get ready because you are in for an epic adventure. You play a significant role in supporting mom during pregnancy, birth, and postpartum.
Want more evidence-based information to navigate your pregnancy and birth?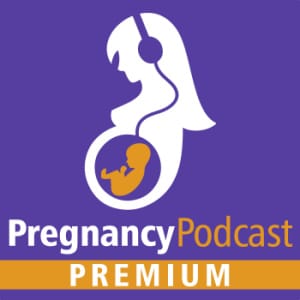 20% OFF Pregnancy Podcast Premium with the code 40WEEKS. With a Premium membership, you get access to the private podcast feed (in your favorite podcast app) with every episode ad-free. Exclusive access to all episodes, articles, and resources on the website. Plus, a digital copy of the Your Birth Plan book. Your step-by-step guide to creating the birth experience you want. Including sample plans and a master template you can customize. Become a Pregnancy Podcast Premium Member.