Welcome to week 16 and the end of your fourth month. 24 weeks to go!
Listen Now
Baby
Your little apple is growing, and this week will be about the size of an avocado. Your little one is 7.3 inches (18.6 cm) in length and weighs 5.2 ounces (146 grams).
Your baby's backbone and the muscles in its back are getting stronger. This allows them to straighten out their head and neck more. Their tiny beating heart is pumping about 25 quarts of blood each day. You may be able to feel some of your baby's movements now. Many moms-to-be describe them as flutters, like butterfly wings flapping gently. If you haven't felt anything, do not worry, many first-time moms don't feel anything until closer to week 20.
Get ready for your little one to have a growth spurt. Over the next month, your baby will double its weight and add inches to its length.
Mom
If there is any time during your life when self-care is crucial, it is during your pregnancy. Your body goes through more changes in the nine months of pregnancy than it ever will in such a short time frame. This is the perfect time in your life to make self-care a priority for two main reasons. First, you have more free time now than you will in the future, making it more convenient to carve out time for yourself. Secondly, making this a habit will make it easier to continue and build on your self-care practice later when you are a parent. This episode explains how to build a healthy routine of caring for your physical and mental health.
Consider documenting your growing bump with photos, even if you are camera shy. Some expecting mothers document every week of their pregnancy with pictures to show off their bump. Others prefer not to get in front of a camera. Even if you are not excited about showing off your bump and changing body, I encourage you to take photos throughout your pregnancy journey. You can always keep them to yourself and not share them. This is a short phase in your life; you may look back and wish you had more pictures. Even if you have more kids, each pregnancy is different. Later, maybe even many years from now, you will wish you had more photos of yourself pregnant. Check out this episode for more information on body image during pregnancy.
Tip for Dads and Partners
Yes, you can have sex. Your sex life might be on a rollercoaster throughout this pregnancy. Hormones may make mom feel more frisky than usual or completely turned off by the thought of sex. Pregnancy is temporary. Do not stress out if your sex life isn't exactly what it was before your significant other got pregnant. Depending on her belly size, you may need to find different positions. As long as she and you are comfortable, go for it.
Want more evidence-based information to navigate your pregnancy and birth?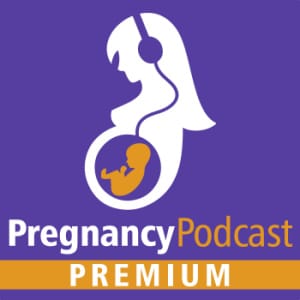 20% OFF Pregnancy Podcast Premium with the code 40WEEKS. With a Premium membership, you get access to the private podcast feed (in your favorite podcast app) with every episode ad-free. Exclusive access to all episodes, articles, and resources on the website. Plus, a digital copy of the Your Birth Plan book. Your step-by-step guide to creating the birth experience you want. Including sample plans and a master template you can customize. Become a Pregnancy Podcast Premium Member.