Welcome to week 17. 23 weeks to go!
Listen Now
Baby
Your avocado-sized baby is growing this week to the size of a pear. Your baby measures 8 inches (20.4 cm) and weighs 6.4 ounces (181 grams). They are putting on weight, and by the time they are born, fat will account for two-thirds of their weight.
The brain now regulates your baby's heart to beat 140 to 150 times per minute, about twice as fast as yours. They continue to practice their sucking and swallowing skills in preparation for breastfeeding. Although their eyes are still fused and shut, they have eyelashes now. Within the next week, they will have complete fingerprints.
Loud noises can startle a baby in the womb. Your baby will be used to sounds like your dog barking before meeting your pet in person. There are episodes on navigating and troubleshooting your dog with a new baby if you have a dog.
Mom
Your uterus is about two inches below your belly button, and your belly continues to grow.
You might notice a lot of discharge, which is normal. It is usually white and acidic, which is thought to help suppress yeast and bacteria growth. You can always use a thin panty liner if this bothers you. Please check in with your care provider if it is green or yellow, has a strong odor, or if you are having pain, soreness, or itching. Those are signs that you could have a vaginal infection.
You may want to start looking into your maternity and paternity leave options and plan for childcare if you plan to return to work. You and your partner need to determine how much time you can take off and whether your employer will pay you during your leave. If you are employed, you can start by checking with your employer. Next, look into the policies in your state if you are in the United States. If you are in another country, check with government agencies there.
If you or your partner is self-employed, look at putting systems in place to spend some time away from your business. At a minimum, cut down on hours. Taking time away from work can be challenging, especially if that means losing income. Planning for maternity leave is a big project, and this episode breaks it down into manageable tasks that you can knock out.
Tip for Dads and Partners
The counterpart to maternity leave for dads and partners is paternity leave. This is a short window of opportunity for you and your partner to be with your new baby. I urge both of you to explore your options and get creative to try and find a way to spend as much time as possible with your new baby. The first several weeks can be particularly challenging for mom as she is recovering from birth. Having you home will be a big help.
Want more evidence-based information to navigate your pregnancy and birth?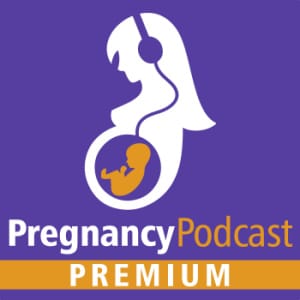 20% OFF Pregnancy Podcast Premium with the code 40WEEKS. With a Premium membership, you get access to the private podcast feed (in your favorite podcast app) with every episode ad-free. Exclusive access to all episodes, articles, and resources on the website. Plus, a digital copy of the Your Birth Plan book. Your step-by-step guide to creating the birth experience you want. Including sample plans and a master template you can customize. Become a Pregnancy Podcast Premium Member.