If you are still pregnant, welcome to week 41. You get to meet your baby any day now.
Listen Now
Baby
Do not stress out if your little pumpkin isn't ready to come out. If your baby is still cooking, they are a bigger pumpkin this week. Your baby measures 20.5 inches (52 cm) long and weighs 8.3 pounds (3.8 kg).
If you make it to 41 weeks, your baby is officially late-term. Births after 41 weeks account for nearly 5% of births in the United States.
Lung development finalizes at the end of your pregnancy as your baby prepares for its first breath of air. Researchers have determined that your baby's lungs produce a protein that signals the start of labor.
Mom
If you have passed your due date, your care provider has likely increased the frequency of your visits. If you or your partner have any last questions about labor, birth, your body postpartum, or anything, now is the time to ask. Take advantage of the extra attention from your doctor or midwife to get even more prepared for your baby's arrival.
See this episode if you need a refresher on methods your doctor or midwife can employ to induce labor. Learn about each method, how it works, its risks, and its benefits. This includes details on stripping and sweeping membranes, misoprostol (Cytotec), dinoprostone (Cervidil & Prepidil), synthetic oxytocin (Pitocin), using a laminaria or balloon catheter, and breaking your water. This episode examines the evidence behind the methods thought to induce labor naturally. Methods included are exercise, baths, nipple stimulation, sex, acupuncture, acupressure, castor oil, evening primrose oil, red raspberry leaf, spicy foods, pineapple, basil, oregano, and dates.
Tip for Dads and Partners
One of the biggest things I hear from dads and partners during pregnancy and after their baby arrives is that they don't know what to do. They feel useless and like they can't help. Or they feel like there is nothing for them to do. That could not be further from the truth.
Want more evidence-based information to navigate your pregnancy and birth?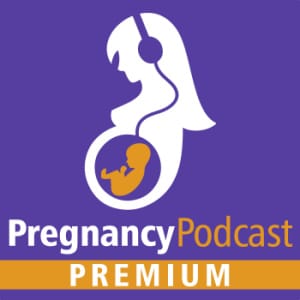 20% OFF Pregnancy Podcast Premium with the code 40WEEKS. With a Premium membership, you get access to the private podcast feed (in your favorite podcast app) with every episode ad-free. Exclusive access to all episodes, articles, and resources on the website. Plus, a digital copy of the Your Birth Plan book. Your step-by-step guide to creating the birth experience you want. Including sample plans and a master template you can customize. Become a Pregnancy Podcast Premium Member.