Welcome to week 7. 33 weeks to go!
Listen Now
Baby
Your little sweat pea is now the size of a small blueberry. They measure 0.37 inches (0.95 cm). While that seems small, your baby is 10,000 times bigger now than it was at conception a month ago.
At seven weeks, most of the growing your little one is doing is concentrated in the head as they generate 100 new brain cells per minute. Your baby's arms and legs start developing more this week, and arm and leg buds grow longer. The arm buds are divided into the hand, arm, and shoulder segments. Leg buds divide into the leg, knee, and foot segments.
Your little blueberry has already gone through three sets of kidneys. The ones in place now are permanent and ready to begin their essential waste management work.
Mom
Your uterus has grown and doubled in size in the past five weeks. Your breasts are also growing. By week 7, many women have grown a full cup size. Early in your pregnancy, sensitivity, tenderness, and pain are common in your breasts. Soreness is caused by hormonal changes, retaining more fluids, and your breasts preparing for lactation. Your areola may be getting darker in color and will continue to do so. The color contrast between the areola and your skin is a target to help your baby find your nipple at birth. See this episode to learn more about how your breasts change during pregnancy.
Constipation is prevalent during pregnancy and includes difficult or infrequent bowel movements, hard stools, and pain or discomfort in your stomach. Early on, your body's increased progesterone production relaxes your smooth muscles, including your digestive tract. As your digestion slows down, your body has more time to absorb the nutrients from the foods you eat and pass them to your baby. The downside is that this can cause constipation. This episode examines the causes of constipation and solutions ranging from small diet and lifestyle changes to over-the-counter medications.
This week is an excellent time to examine some of your health habits. There are many episodes of the podcast with evidence-based information on all aspects of health, like sleep, your immune system, colds, flu, COVID-19, and exercise.
You are probably gearing up for an appointment with a doctor or midwife soon. Hopefully, your partner plans to go to your appointment with you. Doctors and midwives are your expert resource for navigating your pregnancy. Do not be intimated to ask questions. Remember, there is no such thing as a stupid question. See this episode for five tips to make the most of every prenatal visit.
Tip for Dads and Partners
You will probably notice that your significant other looks like they got a boob job. And they did. The downside is that their chest will likely be sensitive and tender, so ask before you touch.
Want more evidence-based information to navigate your pregnancy and birth?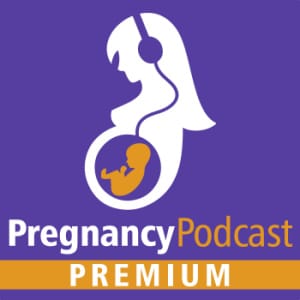 20% OFF Pregnancy Podcast Premium with the code 40WEEKS. With a Premium membership, you get access to the private podcast feed (in your favorite podcast app) with every episode ad-free. Exclusive access to all episodes, articles, and resources on the website. Plus, a digital copy of the Your Birth Plan book. Your step-by-step guide to creating the birth experience you want. Including sample plans and a master template you can customize. Become a Pregnancy Podcast Premium Member.