Welcome to week 8. You are 20% of the way there!
Listen Now
Baby
At about .6 inches (1.6 cm), your baby has graduated from a small blueberry to a raspberry. They are growing about a millimeter daily.
If you could see your baby right now, you could make out their eyelids, the tip of their nose, and upper lip. Their brain, spinal cord, heart, kidneys, liver, and stomach have begun to shape. The tiny beating heart has divided into left and right chambers and beats about 150 times a minute, which is twice as fast as your heartbeat.
Around eight weeks, your baby starts developing sensitivity to touch. You won't be able to feel them move yet, but your baby is now making spontaneous movements by twitching its body and arm and leg buds. Your amniotic fluid increases by about two tablespoons per week. Your baby can absorb oxygen, proteins, sugar, and fat through the placenta.
Mom
You can ease up a little if you're a regular at the gym. Your heart rate is higher now, so you won't need to exert as hard to get the same aerobic result. Plus, the pregnancy hormone hCG makes it much easier to get overheated, so ensure you stay cool and hydrated. These changes are not excuses to skip working out. You can modify nearly any workout to be safe during pregnancy. There are several episodes on exercise during pregnancy, cardio, strength training, and yoga.
Your first prenatal appointment is usually in week eight. After your first appointment, you see your care provider every four weeks for the first and second trimesters. You may have more frequent visits if you are high-risk or have unique considerations. After confirming your pregnancy, your doctor or midwife will calculate your due date using your last menstrual period or ultrasound measurements from a transvaginal scan. While the due date is rarely the date your baby will show up, it is a relatively close estimate.
You are in for a lot of information at your first appointment. You may learn that pregnancy over 35 (Advanced Maternal Age) is higher risk or that your care provider recommends COVID-19, influenza, and Tdap vaccines during pregnancy. You may also learn about the availability of prenatal tests. Get a head start on learning about your options with this guide to prenatal testing.
Tip for Dads and Partners
Go to the doctor or midwife appointments. Your significant other can expect to have around 14 appointments throughout their pregnancy. Make it a priority to attend all of them, or at least as many as possible. This allows you to be included, have input in any major medical decisions, ask questions, and hear everything firsthand. If you have a question, do not be afraid to ask. Keep track of any questions in between visits and ensure your partner's care provider addresses them at the next visit.
Want more evidence-based information to navigate your pregnancy and birth?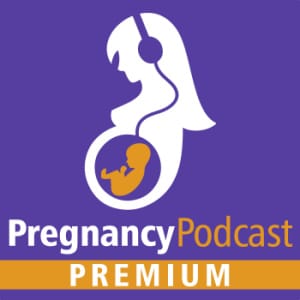 20% OFF Pregnancy Podcast Premium with the code 40WEEKS. With a Premium membership, you get access to the private podcast feed (in your favorite podcast app) with every episode ad-free. Exclusive access to all episodes, articles, and resources on the website. Plus, a digital copy of the Your Birth Plan book. Your step-by-step guide to creating the birth experience you want. Including sample plans and a master template you can customize. Become a Pregnancy Podcast Premium Member.