Welcome to week 12, the last week of the first trimester. 28 more weeks to go!
Listen Now
Baby
Your little strawberry-sized baby is now about the size of a plum. They are 2.1 inches (5.4 cm) and weigh 2 ounces (58 grams).
Your baby can open its mouth and wiggle its little fingers and toes. Brain development is in high gear, fetal nerve cells multiply rapidly, and synapses start firing. This week marks a turning point for your baby, where they go from developing new bodily structures to the maintenance phase. Your baby will continue to mature the systems already set up and get all the organs to function before birth. Your baby's digestive system is beginning to practice contraction movements, which your baby will need after birth to digest food. The bone marrow is busy making white blood cells to help your baby fight infection.
Mom
Your uterus has moved from the pelvic floor to the front of your abdomen. This shift may temporarily ease the pressure on your bladder. Between now and week 16, your lower uterine corpus unfolds, which allows your uterus to become more spherical. This allows more room for your baby with minimal stretching of the uterus.
Several common oral health conditions can occur in pregnancy. Approximately 40% of pregnant women have some form of periodontal disease. The American College of Obstetricians and Gynecologists recommends that you see a dentist during pregnancy and that cleanings and x-rays are safe. Make dental care a priority and schedule an appointment.
Did you know that your feet can go up a shoe size during pregnancy? This is just one of many issues that can affect your feet when pregnant. The good news is that there are things you can do to get some relief if you are dealing with any foot issues. Plus, there are simple things you can do to prevent these issues from happening in the first place. Physical changes, like gaining weight, and hormonal changes, like the release of relaxin, can lead to problems ranging from mild discomfort to severe pain. Some expecting moms find that issues with their feet during pregnancy affect their overall quality of life. Some problems, like a decrease or loss of your arch, cause permanent changes in the structure of your feet. This episode covers how pregnancy changes your feet, common foot issues, tips to get relief, and simple steps to prevent problems.
This is the last week of the first trimester, and you are almost one-third of the way there. If you have been dealing with challenging symptoms like morning sickness and tender breasts, you may find relief knowing many of these symptoms will fade in the next trimester.
Tip for Dads and Partners
The next trimester should bring your significant other some relief from the ailments she may have been dealing with over the previous twelve weeks. Enjoy the second trimester. It will probably be mom's favorite. Take advantage of their higher energy levels and more even-keeled moods. The second trimester is also the ideal timeframe for travel or a babymoon.
Want more evidence-based information to navigate your pregnancy and birth?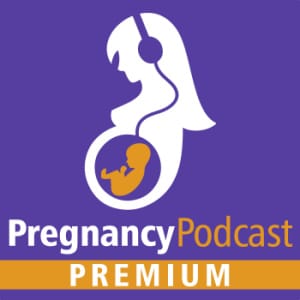 20% OFF Pregnancy Podcast Premium with the code 40WEEKS. With a Premium membership, you get access to the private podcast feed (in your favorite podcast app) with every episode ad-free. Exclusive access to all episodes, articles, and resources on the website. Plus, a digital copy of the Your Birth Plan book. Your step-by-step guide to creating the birth experience you want. Including sample plans and a master template you can customize. Become a Pregnancy Podcast Premium Member.