Welcome to week 13. This is the start of the second trimester.
Listen Now
Baby
Your little plum is now about the size of a lemon. They measure 2.6 inches (6.7 cm) from the top of their head to their bottom and weigh 2.6 ounces (73 grams) this week. Your baby has more than doubled in size during the past three weeks.
Your baby's intestines started as part of the umbilical cord and have found a new home in the abdominal cavity. Their tongue and vocal cords are getting ready for their debut at birth. Their eyes are moving closer together, their ears are in place, and fingerprints have formed. If you could see inside your belly, you would see veins and organs visible through your baby's skin.
This week little bones are beginning to form in your baby's arms and legs. Your baby may be able to suck their thumb in the womb. As your baby grows, so is the placenta, which is about an ounce; by the time you give birth, it will be about two pounds.
Mom
At this point in your pregnancy, your doctor or midwife may be able to feel the top of your uterus (called the fundus) in the lower half of your abdomen. As your pregnancy progresses, your uterus will continue to grow and expand upwards.
Weeks 13 to 27 of your pregnancy tend to be the favorite period for many expecting moms. Your belly will start showing, and you will be able to feel your baby kicking. By this point, morning sickness should be subsiding. You have adjusted to many lifestyle changes to have a healthy pregnancy. Your moods and emotions should be evening out; overall, you should feel like you have more energy. After all of the last trimester's internal changes, the second trimester brings many physical changes. Check out this episode for everything you need to know to navigate the second trimester.
Great news this week; the risk of miscarriage is much lower than earlier in pregnancy.
The second trimester is the perfect time to take advantage of feeling like you have more energy and get things done. I know it can be overwhelming to think about everything you need to do to prep for birth and having a newborn. By knocking out some big items in the second trimester, you can set yourself up to relax and be more prepared for the final months before your baby arrives.
From this point forward, you can expect to gain around one pound per week if you start underweight or at a normal weight, and half a pound a week if overweight or obese. See this episode for more on healthy pregnancy weight gain.
Some expecting mothers and care providers may avoid vaccines during the first trimester because this period is critical to development. If you declined the flu or COVID-19 vaccine in the first trimester, your doctor or midwife will likely offer or suggest these vaccines in the second trimester. See this episode for more information on the COVID-19 vaccine during pregnancy. If you are not fully vaccinated for COVID-19, your care provider will likely recommend it. This article examines the evidence on the flu vaccine for the current flu season.
Tip for Dads and Partners
The start of the second trimester is when many couples decide to announce their pregnancy. Talk about it with your significant other. Get on the same page about when and how to make an announcement or share the news.
Want more evidence-based information to navigate your pregnancy and birth?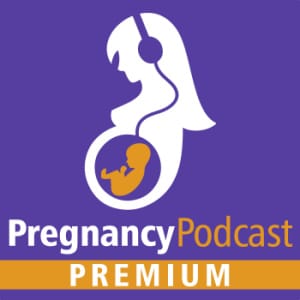 20% OFF Pregnancy Podcast Premium with the code 40WEEKS. With a Premium membership, you get access to the private podcast feed (in your favorite podcast app) with every episode ad-free. Exclusive access to all episodes, articles, and resources on the website. Plus, a digital copy of the Your Birth Plan book. Your step-by-step guide to creating the birth experience you want. Including sample plans and a master template you can customize. Become a Pregnancy Podcast Premium Member.